The Porcupine
Porcupines are rodents with a coat of sharp spines, or quills, that defend and camouflage them from predators. They are indigenous to the Americas, southern Asia, and Africa. Porcupines are the third largest of the rodents, behind the capybara and the beaver. Most porcupines are about 25-36 in (63-91 cm) long, with an 8-10 in (20-25 cm) long tail. Weighing between 12-35 lb (5.4-16 kg), they are rounded, large and slow. Porcupines come in various shades of brown, grey, and the unusual white. Porcupines' spiny protection resembles that of the unrelated erinaceomorph hedgehogs and monotreme echidnas.
Food
The common porcupine is an herbivore. It eats leaves, herbs, twigs and green plants like skunk cabbage and clover and in the winter it may eat bark. The North American porcupine often climbs trees to find food. The African porcupine is not a climber and forages on the ground. [1] It is mostly nocturnal, but will sometimes forage for food in the day. Porcupines have become a pest in Kenya and are eaten as a delicacy.
Quills
Porcupines' quills, or spines, take on various forms, depending on the species, but all are modified hairs coated with thick plates of keratin, and they are embedded in the skin musculature. Old World porcupines (Hystricidae) have quills embedded in clusters, whereas in New World porcupines (Erethizontidae), single quills are interspersed with bristles, underfur and hair.
Quills are released by contact with them, or they may drop out when the porcupine shakes its body, but cannot be projected at attackers. New quills grow to replace lost ones. From ancient times, it was believed that porcupines could throw their quills at an enemy, but this has long been refuted.
Habitat
Porcupines occupy a short range of habitats in tropical and temperate parts of Asia, Southern Europe, Africa, and North and South America. Porcupines live in forests, deserts, rocky outcrops and hillsides. Some New World porcupines live in trees, but Old World porcupines stay on the rocks. Porcupines can be found on rocky areas up to 3,700 m (12,100 ft) high. Porcupines are generally nocturnal but are occasionally active during daylight.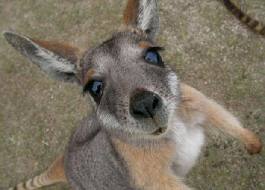 The Kangaroo
A kangaroo is a marsupial from the family Macropodidae (macropods, meaning 'large foot'). In common use the term is used to describe the largest species from this family, especially those of the genus Macropus, red kangaroo, antilopine kangaroo, eastern grey kangaroo and western grey kangaroo.[1] Kangaroos are endemic to the country of Australia. The smaller macropods are found in Australia and New Guinea.
Kangaroos have large, powerful hind legs, large feet adapted for leaping, a long muscular tail for balance, and a small head. Like most marsupials, female kangaroos have a pouch called a marsupium in which joeys complete postnatal development.
The kangaroo is a national symbol of Australia: its emblem is used on the Australian coat of arms,on some of its currency,as well as by some of Australia's well known organisations, including Qantas.The kangaroo is important to both Australian culture and the national image and consequently there are numerous popular culture references.
Food
Kangaroos have chambered stomachs similar to those of cattle and sheep. They regurgitate the vegetation they have eaten, chew it as cud, and then swallow it again for final digestion. Different species of kangaroos have different diets, although all are strict herbivores. The eastern grey kangaroo is predominantly a grazer eating a wide variety of grasses whereas some other species (e.g. the red kangaroo) include significant amounts of shrubs in the diet. The smaller species of kangaroos also consume hypogeal fungi. Many species are nocturnal[26] and crepuscular,[27][28] usually spending the days resting in shade and the cool evenings, nights and mornings moving about and feeding.
Because of its grazing, kangaroos have developed specialised teeth. Its incisors are able to crop grass close to the ground, and its molars chop and grind the grass. Since the two sides of the lower jaw are not joined together, the lower incisors are farther apart, giving the kangaroo a wider bite. The silica in grass is abrasive, so kangaroo molars move forward as they are ground down, and eventually fall out, replaced by new teeth that grow in the back.
Socialization
Groups of kangaroos are called mobs. The size and stability of the mobs vary between geographic regions,with eastern Australia having larger and more stable aggregations than in arid areas farther west.Larger aggregations display high amounts of interactions and complex social structures, comparable to that of ungulates.One common behaviour is nose touching and sniffing which mostly occurs when an individual joins a group.The kangaroos performing the sniffing gain much information from smell cues. This behaviour enforces social cohesion without consequent aggression. During mutual sniffing, if one kangaroo is smaller it will hold its body closer to the ground and its head will quiver, this is possibly a form of submission.Most other non-antagonistic behaviour occurs between mothers and their young. Mother and young reinforce their bond though grooming. A mother will groom her young during or after it is suckling.A joey will nuzzle its mother's pouch if it wants access to it.